Every Leadership team creates an extreme giving WorldLegacy Project.  Each team takes no more than two weeks to prepare and two days to complete an extreme project that leaves a legacy in their community.   At least seventy-five percent of the work and all donations must be contributed by the community.  Project budgets average over $30,000, and all projects must be completed 100%.
Raised by Leadership teams
The NC158's Leadership team created an extreme makeover of The Franklin County Animal Shelter's outdoor areas.  The goal was to create a space of peace and play for the animals, volunteers, and families.  The project was completed in one weekend through a downpour of rain.  The project created a one-third mile walking trail through the woods, a 40×80 foot dog park made of artificial turf, a bullpen, two 20×20 foot sunshades, three dog pools, two benches, and a puppy playpen.  An animal care class was held over the weekend as well as an adoption fare.  Budget: $200,000. 

Read more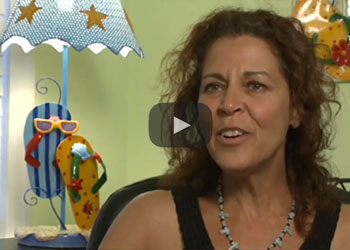 WorldLegacy's NC126 and NC127 Leadership Teams created an extreme makeover at the Children's Recovery Center in Myrtle Beach, SC.  The Children's Recovery Center is a non-profit organization that supports sexually abused children and their families.  The project involved revitalization of the building including:  cleaning and painting the building's exterior, renovating the bathroom, and extensive landscaping around the building.  In addition, they supplied new furnishings, desks, chairs, computers, and toys for the children. The ribbon cutting included an Easter Egg party for the families and children. Budget: $30,000.  Read more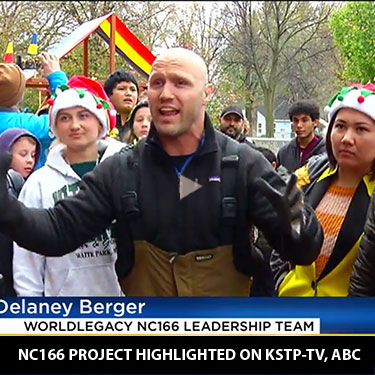 WorldLegacy's NC166 Leaders built an extensive playground for St. Helena Catholic School in Minnesota. This project was accomplished in spite of freezing temperatures, snow and rain. To install the playground structures, temperatures needed to be at least 45 degrees. As the temperatures plummeted, the project could only be accomplished by building above ground enclosures to create dry and warm conditions. In effect, a second project was created in less than 24 hours to accomplish the first project! The above ground enclosures required 10,000 pounds of scaffolding, 9,000 square feet of plastic, 500 pounds of propane, and heaters. Budget: $57, 840. 

Read more

Featured on ABC and NBC News.
| LP TEAM | TEAM PROJECT | BUDGET |
| --- | --- | --- |
| NC186 | Ronald McDonalds, Charlotte, NC (COVID 19) Press Release | $20,000 |
| NC185 | Abundant Clean Water, Malawi, Africa Press Release | $85,000 |
| NC181 | Masonic Home for Children, Oxford, NC (COVID 19) Press Release | $24,490 |
| NC179 | Ronald McDonalds, Charlotte, NC | $22,500 |
| NC178 | Pace Center for Girls, Pinellas Park, FL Press Release | $30,500 |
| NC177 | Vincent House, Pinellas Park, FL Press Release | $35,000 |
| NC176 | Covenant House, Washington, DC Press Release | $28,000 |
| NC175 | Little Berries Daycare, Brooklyn, NY Press Release | $28,800 |
| NC174 | Ronald McDonald House, New York, NY Press Release | $16,800 |
| NC173 | Ronald McDonald House, Durham, NC Press Release | $14,650 |
| NC170 | Lithuanian World Center, Lemont, Ill Press Release | $24,000 |
| NC169 | Uzbek Association, Chicago, Ill     Press Release | $30,000 |
| NC168 | Kyrgyz Community Center Project, Chicago, Ill    Press Release | $44,390 |
| NC167 | Boys & Girls Club, Rocky Mount, NC     Press Release | $28,245 |
| NC166 | St. Helena Catholic School, Minneapolis, Minnesota     Press Release | $57,840 |
| NC165 | Bolder Options, Minneapolis, Minnesota     Press Release | $30,000 |
| NC164 | Center for People in Need, Lincoln, Nebraska      Press Release | $48,839 |
| NC163 | Our Timeless Wisdom, Maryland, North Carolina, NYC | $20,000 |
| NC160 | SWAG Family Resource Center, Gainesville, FL | $20,000 |
| NC158 | Franklin County Animal Shelter, Louisburg, NC | $200,000 |
| NC154 | St. Judes Children's Research Hospital, Memphis, TN | $13,500 |
| NC152 | Central Children's Home, Oxford, NC | $30,000 |
| NC150 | Reality Ministries, Durham, NC | $40,000 |
| NC148 | Camp Royall, Moncure, NC | $15,000 |
| NC147 | HomeStart Residential Facility, Chapel Hill, NC | $22,500 |
| NC145 | Boys and Girls Club Raleigh, NC | $33,000 |
| NC144 | Jordan Child and Family Center, Raleigh, NC | $33,000 |
| NC140 | Passage Home, Raleigh, NC | $30,000 |
| NC137 | Oaklawn Improvement District, Wichita, Kansas | $37,500 |
| NC135 | Emerson Waldorf School Farm, Chapel Hill, NC | $30,000 |
| NC133 | Victorious Praise Church, Durham, NC | $35,000 |
| NC131 | Urban Ministries, Durham, NC | $35,000 |
| NC129 | Central Children's Home, Oxford, NC | $40,000 |
| NC126/NC127 | Children's Recovery Center, Myrtle Beach, SC | $30,000 |
| NC123 | The CAARE Center, Durham NC | $32,000 |
| NC120 | Ashevillage, Asheville, NC | $15,000 |
| NC119 | Club Nova, Carrboro, NC | $30,000 |
| NC118 | Freedom House Recovery Center, Chapel Hill, NC | $30,000 |
| NC116 | Swannanoa Development Center, Swannanoa, NC | $30,000 |
| NC115 | Genesis Home, Durham, NC | $15,000 |
| NC113 | Neighbor to Neighbor, Raleigh, NC | $37,500 |
| NC112 | Faith Assembly Christian Center, Durham, NC | $25,500 |
| NC111 | The Family Center of Durham, Durham, NC | $30,000 |
| NC110 | Urban Ministries of Durham, Durham, NC | $19,500 |
| NC109 | Shaw University Center Raleigh, NC | $65,000 |
| NC108 | Alexander Youth Network, Charlotte, NC | $19,500 |
| NC106 | The Women's Counseling Center, Orlando, FL | $35,000 |
| NC105 | LifeSpan Circle School, Burlington, NC | $37,500 |
| NC103 | Durham Rescue Mission, Durham, NC | $50,000 |
| NC100 | City of Oaks, Raleigh, NC | $30,000 |
| NC98 | Montessori Preschool, Greensboro, NC | $30,000 |
| NC97 | Summit House, Piedmont, Greensboro, NC | $36,000 |
| NC96 | Pathways Center, Greensboro, NC | $30,000 |
| NC95 | Fisher House, Fort Bragg, NC | $50,000 |
| NC94 | Durham Center for Senior Living, Durham, NC | $40,000 |
| NC93 | Summit House, Raleigh, NC | $30,000 |
| NC92 | YWCA, Raleigh, NC | $10,000 |
| NC91 | Shepherd House Assisted Living, Chapel Hill, NC | $30,000 |
| NC90 | The Heritage of Raleigh, Raleigh, NC | $30,000 |
| NC89 | Governor Morehead School, Raleigh, NC | $30,000 |
| NC88 | Spence's Farm, Chapel Hill, NC | $15,000 |
| NC87 | Ronald McDonald House, Durham, NC | $18,000 |
| NC86 | SeeSaw Studio, Durham, NC | $12,000 |
| NC85 | The Blue Bike Program, Chapel Hill, NC | $15,500 |
| NC84 | Camelia Gardens Assisted Living, Durham, NC | $30,000 |
| NC83 | St. Bernard Parish School, Chalmette, LA | $13,500 |
| NC83 | Haven House Services, Raleigh, NC | $32,000 |
| NC82 | Coventry House Assisted Living, Siler City, NC | $18,000 |
| NC81 | Durham Battered Women's Shelter, Durham, NC | $32,000 |
| NC80 | John Avery Boys and Girls Club, Durham, NC | $12,000 |
| NC78 | Wake Interfaith Hospitality Network, Raleigh, NC | $33,000 |
| NC77 | Happy Hills Animal Shelter, Staley, NC | $22,500 |
| NC76 | Carrboro Senior Living Center, Carrboro, NC | $39,000 |
| NC75 | Family Violence and Rape Services, Pittsboro, NC | $28,500 |
| NC74 | Methodist Child Development Center, Raleigh, NC | $18,000 |
| NC73 | Green Elementary School, Raleigh, NC | $13,500 |
| NC72 | Durham Crisis Response Center, Durham, NC | $13,500 |
| NC71 | Estes Elementary School, Asheville, NC | $12,000 |
| NC70 | The Central School for Children, Durham, NC | $12,500 |
| NC69 | Exploris Museum, Raleigh, NC | $12,000 |
| NC68 | Heritage Retirement Center, Rocky Mount, NC | $28,500 |
| NC67 | Loaves and Fishes, Raleigh, NC | $28,500 |
| NC66 | Lead Mine Elementary School, Raleigh, NC | $22,500 |
| NC65 | Haven House Services, Raleigh, NC | $16,500 |
| NC64 | Scarborough Nursery School, Durham, NC | $35,000 |
| NC63 | Walnut Creek Greenway Park System, Raleigh, NC | $19,500 |
| NC62 | West End Community Center, Durham, NC | $30,000 |
| NC61 | EK Powe Elementary School, Durham, NC | $15,000 |
| NC60 | Camp New Hope, Durham, NC | $43,500 |
| NC59 | Project Homestart, Chapel Hill, NC | $36,000 |
| NC58 | Little River Family Resource Center, Durham, NC | $19,500 |
| NC57 | Domestic Violence Center, Wilmington, NC | $18,000 |
| NC56 | Prancing Horse, Cameron, NC | $15,000 |
| NC55 | SEEDS, Durham, NC | $15,000 |
| NC54 | YWCA, Asheville, NC | $7,500 |
| NC53 | Durham Rescue Mission, Durham, NC | $34,500 |
| NC52 | Boys and Girls Club of Raleigh, Raleigh, NC | $18,000 |
| NC51 | Durham Rescue Mission, Durham, NC | $37,500 |
| NC50 | Durham Rescue Mission, Durham, NC | $36,000 |
| NC49 | Durham Rescue Mission, Durham, NC | $34,500 |
| NC48 | Watts Elementary School, Durham, NC | $27,000 |
| NC47 | Boys and Girls Club of Wake County, Raleigh, NC | $22,500 |
| NC46 | Bragg Street Park, Raleigh NC | $39,000 |
| NC45 | Longview Alternative School, Raleigh, NC | $32,000 |
| NC44 | John Avery Boys and Girls Club, Durham, NC | $47,000 |
| NC43 | Wake Interfaith Hospitality Network, Raleigh, NC | $42,000 |
| NC42 | Durham Safe Kids Coalition, Durham, NC | $24,000 |
| NC41 | Haven House Services, Raleigh, NC | $27,000 |
| NC40 | Poole Road Transitional Housing Site, Raleigh NC | $24,000 |
| NC39 | Agape Corner School, Durham, NC | $30,000 |
| NC38 | Helping Horse, Raleigh, NC | $27,000 |
| NC38 | Genesis Home for the Homeless, Durham, NC | $42,000 |
| NC37 | Fox Ridge Community Center, Raleigh, NC | $25,500 |
| NC36 | Walnut Creek Greenway Park System, Raleigh, NC | $34,500 |
| NC35 | The Hispanic Family Center Ministries, Raleigh, NC | $24,000 |
| NC34 | Central Children's Home, Oxford, NC | $57,000 |
| NC33 | SAFEchild Child Abuse Prevention, Raleigh, NC | $30,000 |
| NC32 | Tammy Lynn Center for Disabilities, Raleigh, NC | $34,500 |
| NC31 | The Epiphany House, Raleigh, NC | $27,000 |
| NC30 | Low Security Correctional Institution, Butner, NC | $40,000 |
| NC29 | Raleigh Rescue Mission, Raleigh, NC | $27,000 |
| NC28 | Open House, Wilmington, NC | $24,000 |
| NC26 | UNC Memorial Hospital, Chapel Hill, NC | $18,000 |
| NC21 | Peace Wall, Myrtle Beach, SC | $12,000 |
| | Project Total | $3,701,054 |